It is often said that a man's best friend is a dog, and it is true. Our pets are loved and cherished by all the family members living in the house. After all, what other best friend would you allow to stink up your home and track dirt everywhere they go? While our pets genuinely become essential members of the family, maintaining a clean and tidy home in the presence of pets can be a tedious and time-consuming undertaking.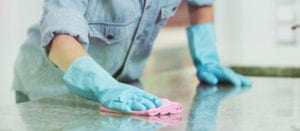 Though they are excellent companions, pets are known to leave behind odors and messes. Be it pet hair and dander to sloppy water and food dishes, it can be challenging for an average homeowner to thoroughly clean and disinfect their homes. However, this does not mean there is no solution. As one of the area's leading home cleaning service providers, The Maid Place knows a few steps all pet owners can take to keep their house both spotlessly clean and pet-friendly.
HOW TO KEEP YOUR HOME CLEAN WITH PETS?
All pets are fun to have around the house, and however, they come with more profound and more frequent home cleaning. As Dallas's top provider of home cleaning packages, our team from The Maid Place has seen it all first-hand. Not only do our four-legged friends shed their hair, but they are also infamous for tracking in all types of mud and dust that may contain harmful bacteria. If you wish to keep your family protected and your house clean, ensure you:
Clean up any accidents immediately since if you leave them unattended for too long, they will spread, smell, and stain. Also, keep in mind that if you do not clean a spot correctly and on time, your pet might return to it again and use it as their bathroom.
Try to keep all muddy paws outside the house and get a pet cleaning caddy by the entrance with disposable pet wipes and old towels.
Always have a lint roller handy to clean off any upholstery quickly and efficiently. If you have any extra time, you can also use a filter vacuum on carpets and furniture to remove any pet hair.
Use a microfiber cloth to pick up any pet hair from surfaces and floors.
If you wish to mitigate hair fall problems, you need to brush your pets regularly. It will help you cut down on hair floating around your home and onto the furniture, floor, and other surfaces.
CONSIDER ANY PET CLEANING PRODUCTS CAREFULLY.
When it comes to cleaning products used around the house, you must ensure that they are also pet-friendly. You have to avoid using products that have ingredients such as phenols, bleach, alcohol, phthalate, and formaldehyde. If you are unsure which product to use, you can always go for natural cleaning agents such as baking soda, vinegar, and water.
HOW CAN THE MAID PLACE HELP YOU?
If you do not have enough time to keep your property clean and safe for your pets, you need to consider hiring professional general house cleaning services from The Maid Place right away. Our team will use only certified products that do not have any harsh ingredients to keep your pets out of harm's way.
NO MORE PET HAIR EVERYWHERE
Do you notice perpetual wisps of fur floating all over your carpets – or worse – your mouth? Pet owners understand this type of struggle all too well. Let our team take care of eliminating your home of loose fur for you. Our professionals will use a solid vacuum to eliminate any allergens, pet dander, bacteria, and pollen effortlessly. This can help you breathe better and should help bring the black color back into your wardrobe.
NO MORE PAW PRINT ON THE FLOORS
All pet owners will agree that paw prints are cute, but not if they are created using litter box dust or mud. Our professionals from The Maid Place use eco-preferred solutions and pet-safe cleaning products that will do more than eliminate the pawprints; they will get your floors looking sparkling and spotless like new.
NO MORE STRESS OVER UNEXPECTED GUESTS
Whenever you have guests dropping by unexpectedly, there is not much you can do besides lighting a scented candle and hoping for the best. However, with a recurring cleaning service, you will not have to stress over unexpected guests anymore. The Maid Place can help you maintain the cleanliness of your home, keeping it drop-in ready at all times.
LET US HELP YOU FREE UP TIME.
Studies have shown that maintaining a clean and tidy environment helps improve mood drastically. The pleasing state paired with extra time on your hands can help you become a better and happier pet owner. Instead of spending your evenings or weekends deep cleaning your house, we suggest you hire a professional cleaning service from The Maid Place. Not only will our professionals give you an unparalleled finish, but you will also get to enjoy quality moments freed up for walks, an extra game of fetch, and even cuddles.
Committing to a professional recurring cleaning service is a worthwhile investment, even more so for pet owners. Your family and your pets will be happier for sure.
GET IN TOUCH WITH THE MAID PLACE TODAY!
You do not have to work your tail off; instead, hire professionals from The Maid Place to do the job for you! Our team comes with tools and products that are perfect for your home. Do you live in Dallas, Texas? If yes, then with the help of The Maid Place home cleaning services, you and your pets can happily coexist together without stressing over a messy house.
If you live anywhere in Frisco, Prosper, McKinney, Allen, Plano, Lewisville, Dallas or Irving, give us a call at 214-644-0111 or contact us online to book a visit today!