Companies like The Maid Place that offer professional house cleaning, provide us with a valuable service, especially to those Frisco homeowners who lack the time to clean their home.
Since all professional cleaning experts have a strict standard for cleaning, they need to keep in mind a few cleaning tasks that an average homeowner may not consider.
At The Maid Place, our team has a lot of experience in professional house cleaning, and we would love to share this professional advice with you. If you wish to find out all the tips and tricks of professionally cleaning the house from experts, then keep reading!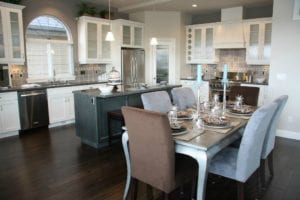 RESIDENTIAL HOUSE CLEANING CHECKLIST
A residential house cleaning checklist ideally involves much more detailed work than cleaning a commercial space. You will have to make sure that every part of the house is cleaned thoroughly from top to bottom.
Before we start creating a residential cleaning checklist, professional cleaning experts make sure that they have all the required cleaners, mops, vacuums, rags, cleaning buckets, and scrubbing pads required to get the job done perfectly. This checklist outlines all the basic tasks that a professional home cleaning expert will have to complete.
Dust all types of things, including appliances, all furniture, baseboards, blinds, fans, chair rails, window frames, mirrors, pictures, stair railings, and light fixtures.
Spot clean all your outlet covers, switches, doors, and cabinet fronts.
Vacuum any rugs or carpets in your house
Remove all types of buildup and clean your toilets both the inside and out.
Empty all trash containers.
Disinfect and clean all showers, countertops, tubs, and sinks inside your bathrooms.
Clean and disinfect your kitchen sinks, counters, tables, appliance exteriors, and microwave interiors.
Clean to shine all your mirrors, glossy surfaces, and glass doors.
You can also do brief, basic tidying if requested. This also includes making beds and changing bed sheets.
CLEANING TIPS FOR SUMMER
During the summer season, you may have a few extra things that you need to do in addition to your basic house cleaning chart. It would be best if you got extra cleaning done because the moisture and heat of summer can end up causing an additional buildup of grime. This is why it is going to be helpful for you to know a few summer cleaning tips.
You need to pay special attention to your home's flooring since many homes often have people tracking in mud, water, and dust.
If you notice that mud has been tracked inside your home, you need to start by brushing away all dry mud using a stiff brush before you can gently sponge away all the remaining stains from your floor.
We have noticed that many homeowners prefer light and citrus scents during the summer months, so you can switch your cleaners to change things up a bit.
Some homeowners are also interested in cleaning outdoor areas, so our team from The Maid Place often discusses cleaning deck furniture with our clients during our final quote process.
You may also have to take some time out to combat certain problems caused by summer dampness. Try and make sure that you thoroughly dry everything since summer's humidity can end up making streaks look more apparent.
Molds are more likely to flourish in areas such as bathrooms, basements, and under sinks, so you need to keep an eye out.
Non-toxic mildew can be easily cleaned up using a bleach solution; nevertheless, you may have to hire a professional for certain types of mold.
CHRISTMAS CLEANING
It is a good idea for you to deep clean your house a few times each year, and Christmas is a fantastic time for you to do a little bit of extra cleaning. Your cleaning schedule will change a little when you get ready and prepare yourself for a Christmas cleaning session.
You need to follow this checklist to make your house looking sparkling clean and full of Christmas cheer for all your guests.
Start by cleaning and sealing your granite countertops to protect them from any accidental spills while entertaining.
Clean the interior of the fridge, microwave, and oven.
Replace all old bedding with new ones for your guest bedrooms.
Vacuum all upholstered furniture.
Wipe down your window sills, baseboards, doors, and other trim using a damp cloth.
Wash and shine your windows.
Dust all Christmas decorations around the house.
Clean your cabinet interiors in both the kitchen and the bathroom.
Clean and polish all your doorknobs.
Use a professional carpet cleaner to remove stains from food or spilled drinks.
The information given above is just a start, and what our team from The Maid Place can do for you will be detailed to meet your specific needs.
We hope we shed some light on professional cleaning processes and helped you along little if you decide to "up" your home cleaning game. We thank you for reading our post!
GET IN TOUCH WITH THE MAID PLACE TODAY!
If you live anywhere in or around Frisco, Texas, and are looking for a professional cleaning service provider, then you need to get in touch with The Maid Place today! Not only do we provide exceptional cleaning, but our services also come with an affordable price tag.
Give us a call at 214-644-0111 or contact us online, and we will give you a free quote on your project.