It might feel odd for you to hire someone to clean your house since it is something that you can do yourself. However, there are numerous benefits that homeowners get to enjoy with a professional cleaning service.
Naturally, all humans adore and work towards living in a clean and hygienic space. Nevertheless, a home cleaning project can be a significantly time-consuming and exhausting undertaking for an average homeowner.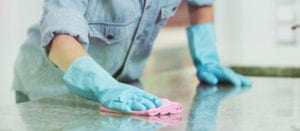 Since most homeowners lead a busy working life and numerous family obligations, we feel like hiring a professional home cleaning service for their home is a much better alternative.
This is because it will help you save time and money and provide you with some peace of mind. Today, we will discuss a few critical benefits that you, as a homeowner, will get to enjoy by hiring a professional cleaning service from The Maid Place and how it can help you save money.
A CLEANING SERVICE CAN HELP YOU SAVE MONEY.
We know what you are thinking: how can I hire a professional cleaner to save me money?
On average, homeowners spend anywhere from $500 to $800 every year on numerous cleaning supplies.
However, even after spending so much money, you never get a professional result. A professional home cleaner will not only help you save money on your cleaning products but will also leave your home spotless.
A single home cleaning package can help you save a lot of effort while saving you from a substantial home repair often caused by negligence.
Simply put, a professional cleaning service is money well spent in all actual senses.
IT HELPS KEEP DUST ALLERGIES AND DUST MITES AT BAY
Several studies and reports show that dust is one of the most significant allergens behind common cold and flu cases each year. Microscopic dust mites are also known to cause numerous allergic reactions amongst people.
Hiring a professional home cleaning service from The Maid Place will take you a long way towards keeping your home free of any germs for a long time.
All our professional house cleaners will use high-quality vacuum cleaners that suck up even the smallest amount of dirt and dust from your carpets and other hard-to-reach areas of your home.
This will not only help you and your family members to breathe fresh air but will also save you hospital bills.
You will be able to stay in a healthy, hygienic house as professionals prevent the formation of any harmful microbes or bacteria. This is going to be significantly beneficial for anyone who suffers from dust-related allergies.
THEIR EXPERIENCE HELPS YOU GET A BETTER RESULT.
One of the most commonly known perks of hiring a professional housecleaner is that their extensive experience in the field can help you get a spotless house in no time.
Professionals from The Maid Place will clean all the items in your home correctly, leaving them looking their best. We also have all the required cleaning products and tools to give you an intense cleaning.
If you chose to clean the house all by yourself, you would have to purchase all these tools and equipment, which can be expensive.
THEY WILL KEEP MOLD AWAY AND CLEAN BATHROOMS.
Hiring a professional cleaning service from The Maid Place will help you keep your bathroom sparkling clean while ensuring that you do not have to worry about having the required cleaning supplies available.
Bathrooms ideally have numerous pathogenic organisms, including fungi, bacteria, viruses, and mold.
Professional home cleaning experts will ensure that your bathroom remains spotless by using the best quality cleaning supplies and techniques to achieve a germ-free environment. If you do not hire a professional cleaning service, you will eventually have to spend money on repairing any mold damage to your house or bathroom.
REDUCED RISK OF ACCIDENTS
Whether looking after a small baby or an adult parent, you must keep your house free from any accidents. Wires, toys, clothes, and other things scattered around the house tend to increase the overall chances of a deadly slip and fall.
By hiring a professional cleaning service, you can ensure that everything in your home is kept in the right place. This is critical, especially if you have got no time to clean your house yourself.
Rather than paying for extensive repair or hospital bills, you should invest your money into hiring a professional home cleaner instead.
PROFESSIONAL HOME CLEANERS CAN GIVE YOU CONSISTENT RESULTS
Hiring a house cleaner will also ensure that you get consistent results with each service. No matter how busy you live, you will always come back home to a gleaming, spotless space. You will no longer have to quickly clean your house before your guests come over to see you.
WANT TO BOOK AN APPOINTMENT? GET IN TOUCH WITH THE MAID PLACE TODAY!
We will handle all your cleaning jobs when you hire professionals from The Maid Place, so you don't have to do anything yourself.
If you live in or around Frisco, TX, and are looking to hire a professional home cleaning service provider, then you should get in touch with The Maid Place today! We offer high-end house cleaning services that come at an affordable price.
Thanks to years of experience, our professionals know what products are required to give you a professional result. Moreover, we also come with the necessary professional equipment for the job, so you will not have to provide anything.
If you live in or around Frisco, Prosper, McKinney, Allen, Plano, Lewisville, Dallas or Irving and are looking to hire a professional cleaning service, you must contact The Maid Place.Want to book a visit? Give us a call at 214-644-0111 or contact us online, and our experts will answer all your questions regarding the procedure before finalizing a date.