Should you, as the homeowner, stay or leave when your house cleaner comes? This is one of the, if not the most asked, questions we get asked at The Maid Place. For the most productive results for the money you spend, you should give the cleaner some space and leave your home when they come.
For example: let's say you were at your workplace doing your everyday tasks and routine that needed to be done within a limited time frame, and your employer comes and sits next to you and starts to watch what you were doing. How is that going to make you feel?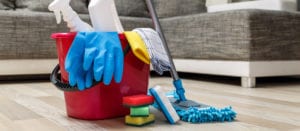 Even though you may not be doing anything wrong or wasting office time, you might feel uncomfortable now that your boss is watching everything you do. This may compromise your overall work efficiency, extending the total time required to do the same amount of work.
When your house cleaner comes, they will move some stuff around like your rugs and cushions to properly clean the entire house. Professionals from The Maid Place or any other cleaning service don't want to have to ask you to move off the couch or leave the room so they can do their job effectively.
Think how you feel when you are cooking dinner for the family and kids come running, getting snacks and drinks. You want to ask them to give you some space so you can cook. It is similar to that for professional house cleaners.
When a professional house cleaner cleans a room, they tend to have an efficient cleaning routine. They tend to move things around, clean, put them back and check them off the list.
A professional cleaner from The Maid Place will work their way through every room in the house and then go back to ensure that everything has been cleaned.
If there are people in the room, they will get in the way, which will make it difficult for the professional to clean the room the way it needs to be cleaned.
This is why you need to look for a professional cleaning service that is good at cleaning and trustworthy. If you are having difficulty finding the perfect general cleaning service or deep cleaning service for your house, our team from The Maid Place has written a few points to help you make an informed decision.
PLAN AHEAD
If you consider hiring a professional home cleaning expert, you must think ahead. Most professional cleaners tend to have regular clients that fill most of their daily schedules, which is why getting your first appointment may require a few days. This is even more applicable during the holiday season.
All homeowners want their properties to be in the best possible shape for the holidays, so professionals often book out weeks in advance. Most successful cleaning companies like The Maid Place are often booked weeks before Christmas or Thanksgiving.
These days tend to fill up quickly, so if you know that you will have to hire help, you better start calling around to book your appointment as soon as possible.
GET RECOMMENDATIONS
After you decide what type of cleaning service you wish to hire, it is time for you to get some recommendations from friends and families.
Try asking people who are close to you if they have a company or a person they would recommend. There are chances that at least a few people in your circle are either currently using a professional cleaning service provider or have used one in the recent past that they would like to recommend.
ONLINE SOURCES
If you cannot get a reliable reference from someone you know, it is time for you to hop onto the Internet. A quick Google search of residential cleaning services should provide you with a long list of websites that target your particular city with their marketing.
You may also find some more possibilities by searching on websites such as Craigslist or looking through classified advertisements.
After you find someone that you like, ensure that you check their Google and Yelp reviews to find out what others in your area have to say about the company. We recommend you do this before you check out their website or give them a call. Even if you find a few reviews online, it can help you mitigate the ones that consistently let down their clients.
Nevertheless, it would be best if you remembered that most people would not leave a review for their cleaners online unless they were super impressed or disappointed with their services.
Four stars out of five are pretty standard for a good professional house cleaning service provider. Most reviews need to be at least four or five, with a couple of ones tossed in.
All homeowners have different expectations when it comes to getting their homes cleaned. Some homeowners prefer their bathrooms to be quickly wiped down while others want them scrubbed with a toothbrush, which is why it is normal for a few customers to be upset now and then.
If you find a company that only has five-star reviews, it means that they are good at cleaning, but it could also suggest that the company has fishy practices to get individuals to leave only five-star reviews online. However, here at The Maid Place, we wish our customers to be completely transparent about our services and feedback.
WANT TO HIRE A TRUSTWORTHY CLEANING COMPANY? GET IN TOUCH WITH THE MAID PLACE TODAY!
If you live anywhere in or around Frisco and are looking for a trustworthy professional house cleaning service, then you need to get in touch with The Maid Place at once!
We have a team of professional cleaners who are not just good at cleaning but are also equipped with some of the best tools to help you get even better results. Give us a call at 214-644-0111 or contact us online to get your free quote today!