Most homeowners tend to hire the services of a professional housecleaner to relieve themselves of the hassle of doing home cleaning chores, which tends to be time-consuming and tedious. However, sometimes hiring a professional home cleaner can also be a daunting task, and this is because you are inviting a stranger to your property.
Besides the fact that a professional cleaner will do most of the work, you, as the homeowner, also need to have some decency and good manners on your end. There are numerous things that you need to do before a house cleaner comes to your home.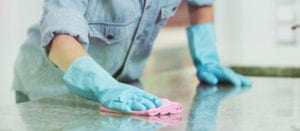 You need to follow a few protocols regarding cleaning preparation if you wish to make both your cleaner and yourself comfortable during the process.
Nevertheless, this does not mean that you need to be involved in the cleaning process entirely. You need to have a detailed plan that explains the entire process, making the job easier and faster for the professionals.
Below you will find a few things that you need to do before a professional home cleaner arrives.
CONDUCT A CHECK
You must conduct a thorough spot check if you wish to determine where everything is. A home check should allow you also to do a little cleaning up. Even though you don't need to involve mopping or dusting, you will make the entire cleaning process easier and more efficient by doing a few random and straightforward tasks.
GETTING RID OF CLUTTER
Cleaning any clutter around the house will enable a professional to do their job better since the house is already organized. It will make it easier for them to clean and explore the place properly, giving you better results. If you hire a team of professionals on hourly pay, clearing clutter will also enable you to cut down on costs.
REMOVE ANY OBSTRUCTION CAUSING OBJECTS
We suggest you remove any objects that obstruct the house. Clutter or piles of things needs to be placed in one room. By eliminating this obstruction, you can even prevent any unwanted accidents. You need to instruct the professionals not to tamper with things in a specified space. If you have kids, then it would not hurt to teach them a few organizational skills. You can ask them to join you in this process by placing their materials and toys on their beds or in the toy bin.
ORGANIZE IMPORTANT ROOMS
All homeowners need to arrange essential rooms in an orderly manner before a cleaning professional arrives. Doing this can enable the cleaning professional to focus only on the cleaning job. Beds need to be appropriately made in the bedrooms, while other rooms like the living area need to be straightened and decluttered. You can keep any clutter found in the living or lounge area on the couch. Similarly, you can keep any clutter found in the bedroom on the bed.
Organizing your home is crucial because you need to understand that your stuff may get turned over and moved around. Your children's clothing may get mixed with your clothing, and the kitchen laundry may end up inside the bedroom. If you wish to prevent this, folding up your laundry and putting them away can help.
PUT FRAGILE MATERIALS IN PLACE.
The next thing that you need to pay attention to is all the fragile materials in your house. Any broken items need to be identified and repaired if possible.
You, as the homeowner, need to do a thorough inspection of the property. It should enable you to find out all items that have been damaged long before the professionals arrive. Doing this can prevent you from placing the blame on the professionals instead.
You can always choose to be involved in the cleaning process by doing utensils or some basic household chores not stated in the professional contract. If you don't have a formal agreement with your professional, you can take care of the kitchen area by sorting out and washing utensils.
It is critical that you drain and adequately clean the sink if you wish to avoid leaving this area in a messy situation.
EMPTY THE FRIDGE
The fridge also needs to be emptied and cleaned adequately during a deep home cleaning project. Any rotten eating materials found inside the refrigerator need to be thrown away. You also need to pay attention to any objects found on the fridge since most people tend to forget this area when cleaning.
You can take the same steps to tend to your bathroom. Clean all countertops properly and dispose of anything that has expired. Things like shaving cream and electrical equipment need to be kept in the right place. Any laundry found inside the bathroom also needs to be removed.
PICK UP ANY VITAL DOCUMENTATION.
Picking up any documents and bills around the house is essential. It is easy for any critical document found around the place to be identified as trash by a cleaner unfamiliar with them. Insurance, bills, and tax files can get thrown away during the cleaning process. If you wish to avoid such incidents, you need to file all documents correctly.
WANT TO HIRE PROFESSIONAL CLEANERS IN FRISCO? CONTACT THE MAID PLACE TODAY!
Want to live in a clean home without having to clean it yourself? Let cleaning be our job! Our professionals from The Maid Place have been serving homeowners residing in Frisco, Prosper, McKinney, Allen, Plano, Lewisville, Dallas and Irving, TX, for years, so we know what to expect. Moreover, our team will come equipped with all the tools and equipment required for the project, so you don't have to provide us with anything.
Want to learn more about our cleaning packages? Call us at 214-644-0111 or contact us online to book your home cleaning appointment today!