Keeping your home clean and organized all the time is an endless, tiring, and time-consuming process. No one wants to live in a dirty or messy house since it attracts numerous bacteria and infections inside the house. Besides cleaning your home daily, you will have to take out one day every week to clean all areas of your home, including the carpets, basement, and any tiny spaces you cannot reach. To do all that, you need a professional solution to deep clean the crevices and gaps of your home. You will spend at least an entire month out of the entire 12 months in a year cleaning your house. However, there are a few alternatives available at your disposal.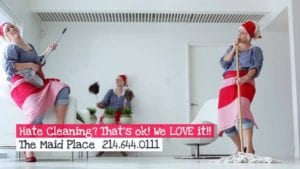 Professional cleaning experts from The Maid Place can help provide you with a full home cleaning service that comes at an average cost under your budget. Nevertheless, the main question is why you need to call for a professional home cleaning service. To help you understand better, our team from The Maid Place has written down five critical reasons you need to consider hiring professional home cleaning services to take care of your property.
PROFESSIONALS CAN HELP YOU SAVE TIME
All of us know how important time is in our busy schedules, and no one wants to waste even a single minute cleaning their home. Once you're done with work, all you want to do is spend the rest of your time with your children and loved ones. Deep cleaning the house is the last thing you want to do in that little time you have left. However, living in a dirty or messy house can also add to your overall stress and discomfort.
After deep cleaning your home, you will be left with no time to spend with your family or do anything you love. But you can also not live in a dirty and disorganized house, so the only option you have is to hire the help of a professional deep cleaning service provider. When you hire a team of professionals from The Maid Place, you'll save a lot of time which you can spend doing something you love rather than cleaning your home.
PROFESSIONALISM CAN MAKE A HUGE DIFFERENCE.
It doesn't matter how long or hard you clean your home; there are still going to be places where you cannot reach or clean properly, for which you will have to hire the services of a professional home cleaning expert. Not only do homeowners have a busy schedule, but you also do not possess the skills and techniques professionals use to get the same job done faster and better. A professional from The Maid Place will come along with high-end cleaning equipment to work on everything from scraping bathroom tiles to scrubbing the kitchen floor. Thanks to years of experience in the field, we know what needs to be done to provide you with the best quality outcome.
IT'S COST-EFFECTIVE
Have you ever noticed how much money you spend every year on buying home cleaning equipment and products? Don't forget to add the total time you and your family members spend doing the chores. The cost of purchasing numerous cleaning equipment and products tends to be a lot more than hiring a professional cleaning service.
You may even spend a little extra money on carpet shampoos and buying special cleaners for your upholstery stains which will add to this annual cleaning budget. Not only will hiring professionals from The Maid Place is going to cost you less money than purchasing equipment, but it will also give you the perfection you were looking for in every possible way. When you look at the bigger picture, it is evident that hiring professionals are a much better and cost-effective way of cleaning your home.
PROMOTE HYGIENIC LIVING
Hiring a team of professionals to deep clean your house will give you a stress-free and sanitary place to live. Against popular belief, when you hire professionals to deep clean your home, they can get the job done within a few hours instead of taking an entire day. However, this does not mean that they will skip a few tasks while they are at it. Expert cleaners will clean everything from the top of your dresser to the inside of your kitchen exhaust pipes, bathroom drawers, falls ceiling, and more.
Our team will also vacuum your sofa, clean your chairs, remove dust particles, hairballs, and everything else that hinders the hygiene of your house. All this will be done using specialized equipment and cleaning solutions that ensure your home is hygienic from every area without damaging the surface.
WANT TO GET STARTED ON YOUR DEEP CLEANING PROJECT? CONTACT THE MAID PLACE TODAY!
Our team from The Maid Place offers expert-level deep cleaning services that will not break the bank. All our professionals are specially trained to spot any dirt that others might not notice. They will effectively and efficiently go through your property, wiping away any dust, dirt, or grim. Want to book your visit?
Get in touch with our team today to discuss what you want to achieve with your home cleaning project. Our professional cleaners are always ready to take the stress of cleaning the house off of your plate! If you live anywhere in Frisco, Prosper, McKinney, Allen, Plano, Lewisville, Dallas or Irving, give us a call at 214-644-0111 or contact us online to book a visit today!