Hiring a professional house cleaning service for your home in Frisco, TX, can help make your life easier while relieving you from all your daily chores. You will not have to stress about making time to get your household chores done after a busy day at work.
Once you delegate all your cleaning responsibilities to a professional cleaning service provider like The Maid Place, you will not have to spend any time washing, dusting, or vacuuming your home.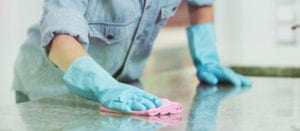 Besides cleaning your house for you, our professional cleaners will also provide you with several health-related benefits, including removing dust mites, eliminating any allergies, and achieving a deeper clean. You don't have to stress mildew and mold anymore since our experts know how to eradicate all microbes properly.
KEEPING AWAY ALLERGIES
Dust allergies are one of the most significant problems amongst households. A lot of children and adults have developed an allergy to dust. It is a common allergen that can cause a runny nose and itchy eyes.
Whenever you hire a professional house cleaning service from The Maid Place to clean your home, they will ensure to use high-efficiency particulate air filter vacuums to help you get rid of as much dust as possible from inside your home.
Our professionals will ensure that they remove all dead skin, dust, and debris from crevices and carpets. This is going to allow your family to breathe better quality air and have a dust-free in-house atmosphere.
A professional cleaning service needs to have some experience with leaving kitchens, bathrooms, hallways, and all additional rooms in exceptional condition.
They should clean all ledges, window sills and be careful when wiping any woodwork. Your service provider should also wash mirrors, bathtubs, showers, and clean tiles. They will dust all the furniture, shelves, picture frames and ensure that all fingerprints and cobwebs are gone.
After getting a professional from The Maid Place, your house will get an intense clean because all our professionals have years of field experience. They use particular types of cleaning agents depending on the circumstance and will leave your entire home spotless.
KEEPING MOLD AWAY
All bathrooms act as a breeding ground for various types of bacteria, such as fungi, mold, and other gastrointestinal viruses.
It can be challenging for you to get rid of all the bacteria from your home's bathroom, especially if you can't make time and don't know how to do a deep clean. Professional cleaners from The Maid Place will have all the equipment and time required to clean your bathroom the way it deserves.
PROTECT YOUR CHILDREN
Young kids and infants are much more susceptible to numerous infections and need to be protected at all costs.
The best way for you to ensure that your children are safe is by making sure that your home is germ-free. Professional maids can ensure that your house is kept clean all the time, no matter how difficult your schedule gets.
REDUCE STRESS AND FATIGUE
Properly handling your day-to-day routine while balancing your home and work life can become overwhelming for most homeowners. After working an entire shift and then coming back home to care for your loved ones, you are not going to be left with much energy or time to work on cleaning your house.
Overexerting yourself can also severely impact your mental and physical health, including stress, insomnia, and fatigue. When you hire a professional maid to help you out with cleaning around the house, you are going to notice that you have more downtime than ever before and will finally be able to unwind and bond with your family.
When you allow a team of professionals from The Maid Place to do the cleaning for you, you will get to chill while they do all the work. There is no for you, as a homeowner, to overexert yourself and get stressed out from performing household chores.
A cost-effective residential cleaning service provider can use special techniques to help you eliminate all the microscopic organisms in your house that may cause infections.
KEEPING KITCHENS AND BATHROOMS HYGIENIC
Whenever we talk about cleaning a bathroom, professional cleaners from The Maid Place are sure to extinguish any fungi, bacteria, and mold without much effort. They will also make sure to remove viruses and any other organisms living inside your toilets, bathtubs, and sink surfaces.
We know how to mop the floor of your kitchen and bathroom to get rid of all those hard-to-wash stains. Since both these areas tend to harbor the maximum number of germs, professional cleaners will focus on cleaning all the hard-to-reach places.
Whenever a professional cleaning service provider cleans your home's bathroom, they are surely going to wipe down all your faucets and disinfect your toilet seat.
We are going to disinfect your bathtub and your counters thoroughly. If you are concerned about germs, you don't have to worry since you will not encounter any of these microbes. A professional cleaning expert is not afraid of germs and will do a much better job at sanitizing these areas than you.
If you wish to find out more about how hiring a professional cleaning service is going to help keep you and your family safe and healthy, then you need to get in touch with The Maid Place today!
THE MAID PLACE
Here at The Maid Place, we have a team of professional cleaning experts who are determined to handle all your home cleaning services effortlessly. Our experts will use all high-end products and equipment to give you the best possible results.
Give us a call at 214-644-0111 or contact us online, and one of our experts will take care of all your needs and wants. We will also give you a free quote on the project.