Whenever Dallas-Fort Worth homeowners think of getting a huge house cleaning session, they usually think during the spring. However, it is crucial to know that there are specific things all homeowners should do to get their homes prepared for the winter season as well.
You and your professional cleaning crew from The Maid Place together can take on these tasks. Doing so will ensure that different components of your house perform correctly, which should help you save money on energy expenses.
Not only chores, but these also make up for great productive activities for when you are stuck inside, trying to stay out of the cold. Keep reading, and our team will walk you through the best winter cleaning tips that you, as a homeowner, should know.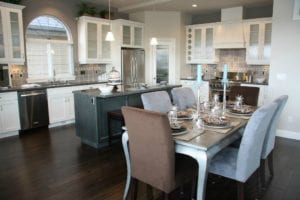 TAKE CARE OF YOUR HVAC
All homeowners should replace their filters and look into getting their vents and air ducts professionally cleaned every winter. According to the EPA (Environmental Protection Agency), everyone should replace their air filters once every three months.
Since we use our HVAC more often during summers and winters, it's best if you replace these air filters more frequently during these particular months.
Getting your filters replaced will not just ensure that your air is going to stay clean, but it will also help your system to achieve a better and steady airflow throughout the season.
Replacing your air filter will also help you reduce dust on your home's furniture and floor. To get even better results, you can clean your ducts and vents of any excess buildup.
This will ensure that you get even better airflow. You will also be able to take care of allergens that get trapped inside your house and cause different types of respiratory issues to your family members throughout the year.
CLEAN BEHIND YOUR REFRIGERATOR
It would be best if you pulled your fridge away from the wall every once a year. You don't just have to clean the fridge coils but also the floor and wall behind your refrigerator.
Dirty coils can end up reducing the overall lifespan of your appliance as a result of damaged coils. To ensure safety, you should always unplug your refrigerator before cleaning it or doing any maintenance. You may also need to rebalance your unit after putting it back.
Well, if you are not sure about rebalancing the appliance, don't worry. You can quickly figure it out by taking a look at your manufacturer's owner guide.
This is also a splendid opportunity for you to take everything out of your refrigerator and give it a nice wipe down from the inside.
REDUCE ANY CLUTTER
If you wish to keep your house in order between cleaning sessions, it is crucial that you keep it organized. The more mess your home has, the more things are going to get dirty and dusty.
It would help if you considered using seasonal storage. There is no need for you to have your puffy coats lying around the house in summer, or have your pool gear in the winter.
CLEANING YOUR DRYER VENTS
Ideally, it would be best if you got your dryer vents professionally cleaned. It is amazing how much lint is pulled out of the back of your dryers. It is usually one of those cleaning tasks that most homeowners simply put off.
Nevertheless, if you allow excess lint buildup, you can end up ruining the efficiency of your appliance. Additionally, having a lot of dryer lint can be a fire hazard as well.
This is why you must empty your dryer's lint each time you use the machine. You can also consider cleaning the venting system once a year.
DEEP CLEAN YOUR KITCHEN.
While you are preparing your home for the coming winter season, it is an excellent time for you to organize and dust your kitchen cabinets and drawers. It is also the perfect time for organizing and cleaning your pantry.
You should get rid of any food that's expired and take note of items that are close to their expiration date. You can also get rid of any damaged items or containers that are missing their lids. Make sure that you de-grime your backsplashes and hood vents.
Most homeowners don't open their windows during the winter, so cleaning these particular items can help you to reduce all the strong cooking smells. Here at The Maid Place, we have specific cleaning services which also include deep cleaning your kitchen.
STEAM YOUR FURNITURE AND CARPETS
Whenever the winter season comes around, it brings more mud, cold, and snow along with it. Even though you may assume that steam cleaning your carpets and furniture in the winters is counterintuitive, you should not let any stains settle.
Instead, you should address the problems as soon as possible while they are still easier to clean. You can consider using a professional steam cleaner, especially for furniture that is in a high traffic area or has a lot of dust and stains.
WASH YOUR WINDOWS
Believe it or not, but cleaning your windows can help you bring more natural light into your house, which is a fantastic way to fight the winter blues and Seasonal Affective Disorder. Winter is also a great time for you to launder all window treatments which can hold onto allergens and dust.
HIRE A PROFESSIONAL CLEANING SERVICE IN DALLAS-FORT WORTH, TEXAS TODAY!
Though it can be a lot of fun to winterize your home and get it clean and prepped, the processes itself can be very time-consuming. You may be like most homeowners who don't have enough time to deep clean your home all by yourself.
This is where we come in. Our highly trained staff at The Maid Place can gladly take care of all your winter deep cleaning needs, so you get to spend more time doing things that are more important to you.
If you live anywhere in Frisco, Plano, McKinney, Allen or Dallas, are looking to get your home cleaned by professionals, contact us today and we will take care of all your cleaning needs.